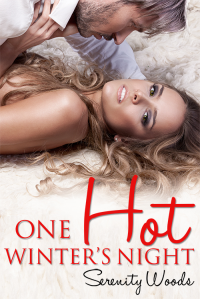 For this review and more
my blog
When I read the synopsis of One hot Winter's Night I had a certain idea of how everything would go. I thought it was a romance with a hot older guy and would be a game of cat and mouse that would be fun and sexy. This is what I wanted. I LOVE older guys and I couldn't wait to get started.
I could not have been more wrong.
For a start the silver fox was not an older guy (sulks) which was my bad for jumping to conclusions. I could get over that because I actually really liked Heath and maybe secretly imagined he was older anyway.
What I did have a problem with was Cat. She is a professional and has a well-respected job yet she seems to think that the only way to get anything is to sell herself for it. She flirts, touches and taunts to get her way and at times considers doing more…I am sorry but I don't think that is how most archaeologists handle themselves and I do not think men in the profession would accept those ploys as payment.
It annoyed me because I expected more from her and more from this book. I wanted adventure and glamor. Instead Cat is insecure and not very likable from the first page she is moany and rude and I just didn't like her.
One Hot Winter's Night looked great on paper and I really wanted to like it, I even bumped it up my reading list, but in the end I was disappointed.
The publisher provided me with a free copy of this book in exchange for an honest review