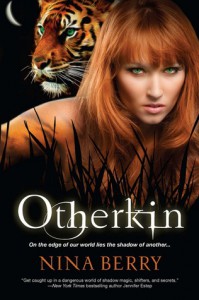 Real ratinf 3.5
For this review and more visit
my blog
The publisher provided me with a free copy of this book in exchange for review.
Let me just start by saying Otherkin is completely unrealistic, it is not believable at all…but not in that irritating, bang your head against brick wall kinda way. Otherkin is unbelievable in the comic book, action movie kind of way. It simply doesn't matter that things like this would just never happen in real life because this book owns its unrealistic-ness and instead of annoying is just wildly entertaining. This book is not to be taken seriously, if you are looking for realistic fiction then run far away from here because you will be disappointed. It does not set out to be a life changer, it is meant to be fun and that is exactly what it is.
From beginning to the end Otherkin is non-stop action. It rarely dawdles or slows down so it managed to keep my interest all the way through. The characters were great especially Dez and Celeb. Right at the beginning of this book Dez comes across as dislikeable. DO NOT BE ALARMED, it lasts a few pages and then she is just awesome. She is cool, witty and funny. She is a fighter and has more sass then you can shake a stick at. In short she is the kind of female character I like.
Caleb is just really hot. He is the stand out character in this book (not just because in my head he happened to be drop dead gorgeous) he is funny, he gets all the best lines, he is charming, mysterious and did I mention that he is hot? He is also (in YA terms) fairly naughty and is in possession of an extremely dirty mind.
The interaction between Caleb and Dez is one of the books strong points. The banter between them is funny and witty, and the tension between them surges off the page. These kids are not just falling in love with one another; they are also falling in lust.
Some of the writing in this book is nice. What I loved was hearing Dez's voice when she was in animal form. The descriptions of what it is like to be on four legs instead of two were well executed and not overdone.
This book does have its problems, like I said before it is unrealistic, it can also be a little bit to predictable and sometimes the scenes without Caleb dragged ever so slightly. For the most part I was able to ignore these things.
Otherkin is fast paced and action packed. It is fun and entertaining and doesn't take itself seriously. I really enjoyed it and would definitely recommend it to others.